One never knows the value of his eyes unless he goes blind.
I realized this lesson after the loss of my dear granny.
everything seems like a dream, the reason why I still am not able to believe that she has actually gone…
We called our granny; "ammamma" (which means grandma in our language).
she was always serene like a clear cloudless sky. she mostly wore only white clothes and always had vibhuthi( the sacred ash)
On her forehead.
you can always find her room tidy and neat anytime you visit her. one felt a sense of tranquility in her presence.
she had a handsome walking stick with which we cousins used to play
J
.
I still remember how cute her wrinkled soft cheeks looked when she smiled!
Ludo and snake and ladder were her favourite games which she loved to play in the evenings and she was an expert in them
J
She was not very strict but she had a special aura that arrested respect form everyone. She was a wonderful teacher, mother and granny
I had only lived about five years with her in my childhood.but those were five precious years of my life.
I used to listened to her childhood stories and experiences, the hardships she faced as a child, with great wonder. At her time,people never knew the value of education,but still my grandma became the fist one to get educated and become a teacher in her family. she was a woman of substance and nothing less than real hard work did earn her the good name In the society.
Even today people around the place in my hometown recogonize we cousins as her grand children. Its with great amazement that I still wonder how she managed to bring her six children up, even when she was an employed mother, that too at that time…..
Sometimes god can be cruel and that was why we couldn't rescue my granny from the jaws of cancer. It was too late, but she fought…
It was a painful sight to see her during her last days.
i still remember the day when she struggled to open her eyes as a reply to our calls. Through her cheeks, which had then lost all its cuteness, I saw tears flowing down
May be the pain was horrendous for her, or may be she knew that, soon she wouldn't be able to open her eyes again and see us again…
Ah how I wished I were big, I weren't a kid at that time! To spend all my time with her…taking care of her, to do all I could to rescue her,to make her the sweet dear granny again…
Today she is in the safe hands of god but the truth is she is safe in my heart. It has been five years since her demise and even today I do feel her presence always… I find her in the people who know to love, I find her in the ones who correct me ….she lives within me , She is the good in me….
We miss you dear granny….
-------------------------------------------------------------------------------------------------------------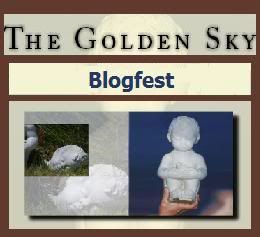 i wish
elisa
all the best wishes for the journal "THE GOLDEN SKY" about her son zeke.
Dear Elisa, God calls back first,the ones whom he loves the most,....